Some eyes require more than what standard contact lenses can offer. If you have one or more of these eye conditions, wearing contact lenses can be challenging:
Keratoconus
Presbyopia
Astigmatism
Dry eyes
But fear not, we are here to help. We can fit contact lenses even if you have the following condition(s):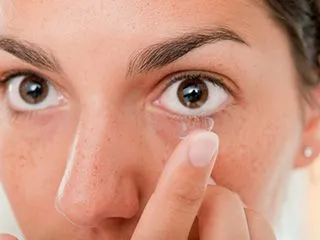 Keratoconus: This is a relatively uncommon condition that occurs when the cornea becomes thinner and begins to bulge forward. The exact cause of keratoconus is unknown but is likely caused by a combination of genetic and environmental factors, like eye-rubbing. In the beginning stages vision can often be corrected with standard contacts or glasses, but as the disease progresses these options often no longer correct vision satisfactorily. When this occurs, specialty contact lenses are used to achieve maximum vision.
At Carlson-Tillisch Eye Clinic, we work with many different types of specialty lenses including scleral lenses, hybrid lenses, rigid gas-permeable (RGP) lenses, and custom soft lenses. Corneal cross-linking is a procedure uses riboflavin (vitamin B) and ultraviolet light to strengthen the cornea to reduce the chance that the disease will get worse. Corneal cross-linking is most effective if it can be performed before the cornea has become too irregular in shape or before there is significant vision loss from keratoconus. If applied early, cross-linking typically will stabilize or even improve the shape of the cornea, resulting in better visual acuity and an improved ability to wear contact lenses. Our doctors are able to determine if you would be a good candidate for this exciting procedure. We work closely with corneal surgeons and are able to provide pre- and post-operative care for this procedure.
Presbyopia: For most of us, eyes have a tougher time focusing on near objects after age 40. This makes correcting vision with standard contacts more difficult. The main contact lens options for correcting presbyopia are multifocal contacts and monovision. There are many different types of multifocal contact lenses with slightly different designs--sometimes one style of multifocal contact will work better for you than another. Monovision involves correcting one eye for distance vision and the other eye for near vision and often is the best option.
Astigmatism: Astigmatism is a common vision conditions that causes blurred vision. It occurs when the eye is not perfectly round, therefore causing light to be focused into two points instead of one. Most patients are able to achieve clear and comfortable vision with contact lenses that correct for astigmatism. Depending on the severity of astigmatism, options include rigid gas-permeable (RGP) lenses, soft lenses, hybrid lenses, and scleral lenses. We will work hard to find the best option for you.
Dry Eyes: When eyes become very dry, symptoms like irritation, burning, redness, and blurred vision can make life miserable. Often time there are treatment options to improve these symptoms so that contact lenses can be worn successfully. Dry eye therapies include lubricating drops, hot compresses, medicated eye drops, nasal spray, and punctal plugs. Often times, daily disposable contacts are the most comfortable. Another option for dry eyes is a scleral lens, which can sometimes provide better comfort throughout the day.